The ladies over at
Shanty2Chic
are having revamp party. I decided I would link up after I made these decorations for my bathroom.
My mom and I were out shopping one day and went into the dollar store. I had just made these cute canvas pictures you can check out right
here.
I saw these pictures and thought hmm I could do something similar with these. Not sure at the time but something!! Plus they were only a dollar so I bought six. We have lived in our house for way too long and haven't put any decorations in the bathroom downstairs. I got the idea the other day from some scrapbook paper I really like!!
So first I spray painted them all Rust-Oleum American Accent in Heirloom White with a Smooth Satin finish.

and painted these as well.( the letters are for mine and Jasons names)

My Bathroom is done in mostly blue. There is a small stripe of green in my shower curtain and thought I would bring more of it out. I found this scrapbook paper at JoAnn's Fabrics. I liked the design but didnt want the same thing on all photos. So I cut each of the shapes out in the design I wanted. (I forgot to take pictures of the actually cut outs sorry)

I modge podged the cut-outs the way I wanted them on the pictures.

On the other two I used some of this DecoArt Metallic Glaze. I watered it down with some water because it comes off easier and doesn't turn out as dark or thick.

Painted it on and then wiped it off.

Added the green paper and the letters.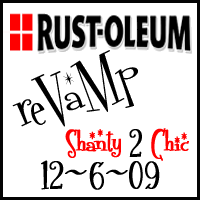 **Update I am also linking this up to